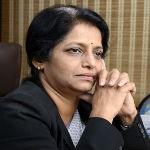 Course author and teacher:
Dr. Shashikala Gurpur
Course author and teacher:
Prof. Kshitij Naikade
Symbiosis International University - India
Law and Diplomacy: India and EU Perspectives
The course content was conceptualized and developed by Dr. Shashikala Gurpur and Prof. Kshitij Naikade.
The course has also been peer reviewed and validated by Dr. Przemyslaw Tacik, Assistant Professor at the Institute of European Studies, Jagiellonian University during the short training programme attended by Dr. Gurpur from16th – 17th October,2019 at Jagiellonian University.
The course has been validated by Ambassador Mr. D.P. Srivastava (Retd.)
The course has also been validated in the Programme Review Committee of Symbiosis Law School and then put up at UG Board of Studies to be offered as elective course under BA/BBALLB Honours and LLB Programme across specialization groups.
The course is being offered currently as a value-add/ certificate course for all programmes (BA/BBALLB, LLB and LLM) from Jan-June,2020 Semester onward as 'Internationalization at Home' opportunity.